Notice: Use of this site constitutes your acceptance of these Terms of Use.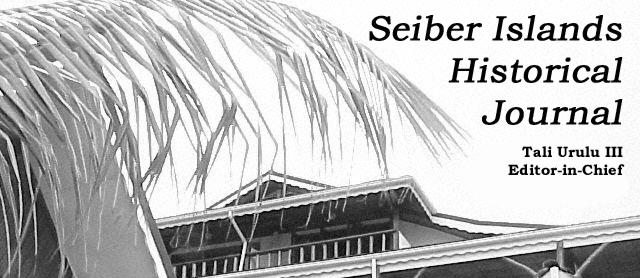 A Special Letter from the Editor-in-Chief:
You will notice a number of changes to the Journal which are reflected in our new logo above. First, Professor Klaus Werner Immerschreiben has been named the Journal's first "Editor Emeritus" on the occasion of his retirement from Tarafu University and his moving to the Marivellas to take up a new career as CEO of Monkey Bar-ometrics. (This well-known company is now a corporate partner of the Journal.) Second, the Journal staff has moved into new editorial and administrative offices. We are now located in the Klaus Werner Immerschreiben House situated on Battery Point overlooking St Hubert's famed harbour. (Learn more about the Journal's new home here.)
These changes are all part of a settlement agreement reached by the Regents of Tarafu University, the Journal's Board of Directors, the Board of Directors of the Cutter Air Museum, and Professor Immerschreiben to resolve the various claims and counter-claims arising out the recent theft of Jake Cutter's Jacket and Professor Immerschreiben's coincidental disappearance. As part of that settlement agreement, the Journal apologises to both Professor Immerschreiben and his family for publishing a letter from Professor Oliver Stein which falsely accused Professor Immerschreiben of stealing the famous jacket. In addition to destroying all remaining copies of the issue containing the latter and removing it from this website, the Journal has requested that Professor Stein tender his resignation from the Journal's editorial board.
As for Professor Immerschreiben, we all wish him the best of luck in his new venture and trust that the Professor will be able to make good use of the money paid by the Journal for both his beautiful home and his new article Part One of which is published in this edition of the Journal--"Jake Cutter and the Philosopher's Stone". (I also trust that Professor Immerschreiben would join me in expressing our sympathy for those former employees of the Journal who lost their jobs when our recently modernized printing facilities had to be sold to raise that money.)
As always, if you have any concerns or comments regarding the Journal, or wish to submit a "Letter to the Editor" please e-mail me at sihj@mailcity.com.
Tali Urulu III

The Journal's Corporate Partners: